'Through the Garden Gate', the weekend of workshops that we have been waiting for two years finally came to be.
Sunshine on the garden at Bishop Burton College near Beverley lit up the yellows, purples and greens of spring, water cascaded from the watering can fountain and the gate itself awaited us.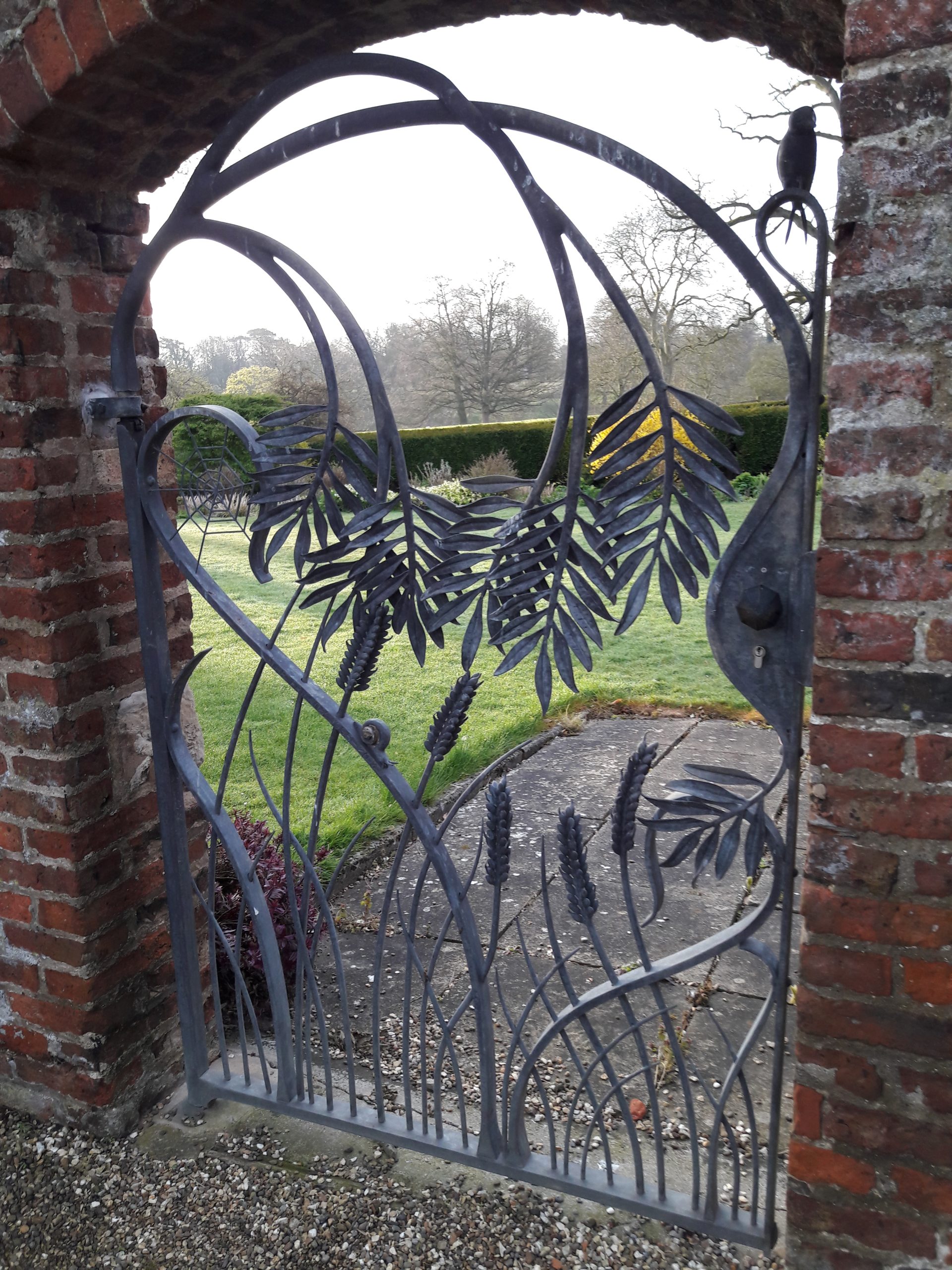 Wheat ears, a swallow, snail and more decorate the gate which had become the focus and inspiration behind our workshops this time.
Thirteen of us gathered, some new to the event and some new to straw craft and a lucky number it was, such a lovely group of people.
The college is a comfortable and welcoming venue, there were also flower arrangements done by the floristry students decorating our accommodation areas too.
We had plenty of space for displays – work by Jill Pearson, Neil Thwaites and Ian Collins, a beautiful album of photographs showing the life and work of Raymond Rush brought by Rachel and Claire, beautiful examples of marquetry collected by Vy, and much more besides.
Great excitement …. the new Straw Craftsmen aprons organised by Claire had arrived just in time and so of course we had to wear them, so practical too. With embroidered logo and so very smart we all looked the part.
Our first workshop was led by Elaine, the making of straw roses and it proved a real success. Colours chosen and fingers busy, many roses and leaves –Belarussian style and Swiss spreuers too – were created and soon brooches and other adornments began to appear and ideas shared.
What a lovely start to the gathering.
Sunday and a trio of workshops ……
Inspired by a sunflower from Belarus that I was given, we wove straw ribbons to create the centre, cut petals and plaited to complete the flower itself before adding stem and leaves. Fiddly yes, but beautiful once complete, they were a great success.
After a tasty lunch we attended our second workshop of the day and Vy was inspired by some mirrors she had found and the gate itself. Cutting of ribbons took place to create silhouettes of the gate then fastened to the mirror with colours added to embellish it, wheat ears, cobweb, bird and of course the snail too. Such a clever idea and very effective.
Snails, every garden has them and this workshop, a gentle one for the evening session was inspired by some I'd seen made by Linda Beiler who kindly shared the instructions. Once one was made I was hooked and I now have quite a collection! So very apt for this event and there were soon snails everywhere but what do you call a group of snails? Apparently you can say a rout, walk or escargatoire. We had decided on a 'lettuce of snails' so we'll stick with that.
Elaine kindly added an extra activity for the evening and led a plaiting session enabling folk to make diamond plaits. It's always interesting sharing ideas and techniques and we are always learning. I've always made diamond plaits with the wheat ears nearest me and hair plaits with the ears away from me whereas Elaine and other folk do the reverse. I wonder who I learned from, I have quite forgotten.
Monday morning came round so quickly and time for the final workshop Lynette's straw paper flowers. Making the paper herself with helpful hints from Elaine, Lynette showed us how to create poppies and canna lilies and we also had the chance to make roses. It was great fun, a completely different skill set and I think many of us now want to set to and make our own straw paper … watch this space!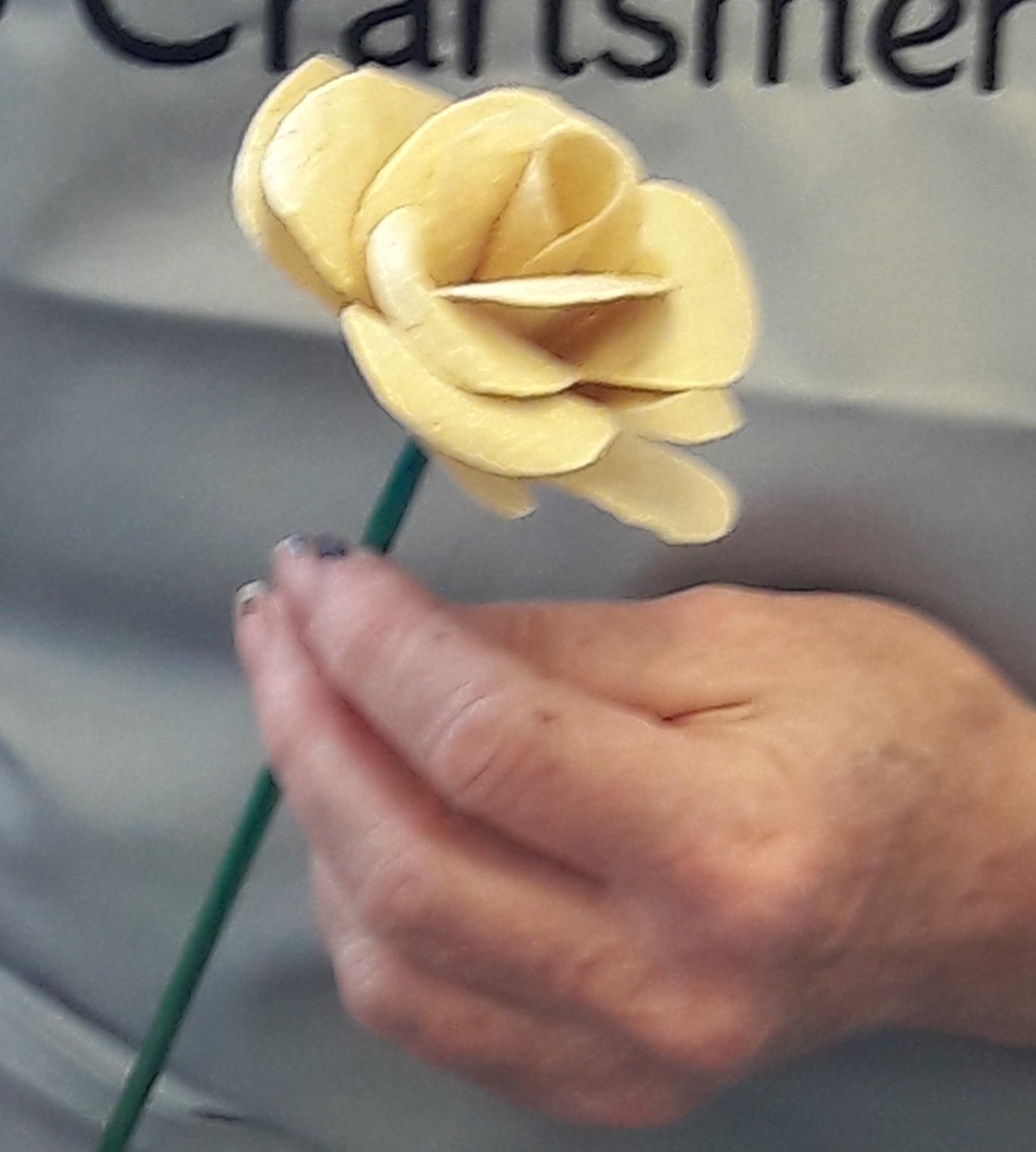 With frantic finishing off of projects, final photos including the group by the inspirational gate, raffle drawn, it was time for the final meal and goodbyes.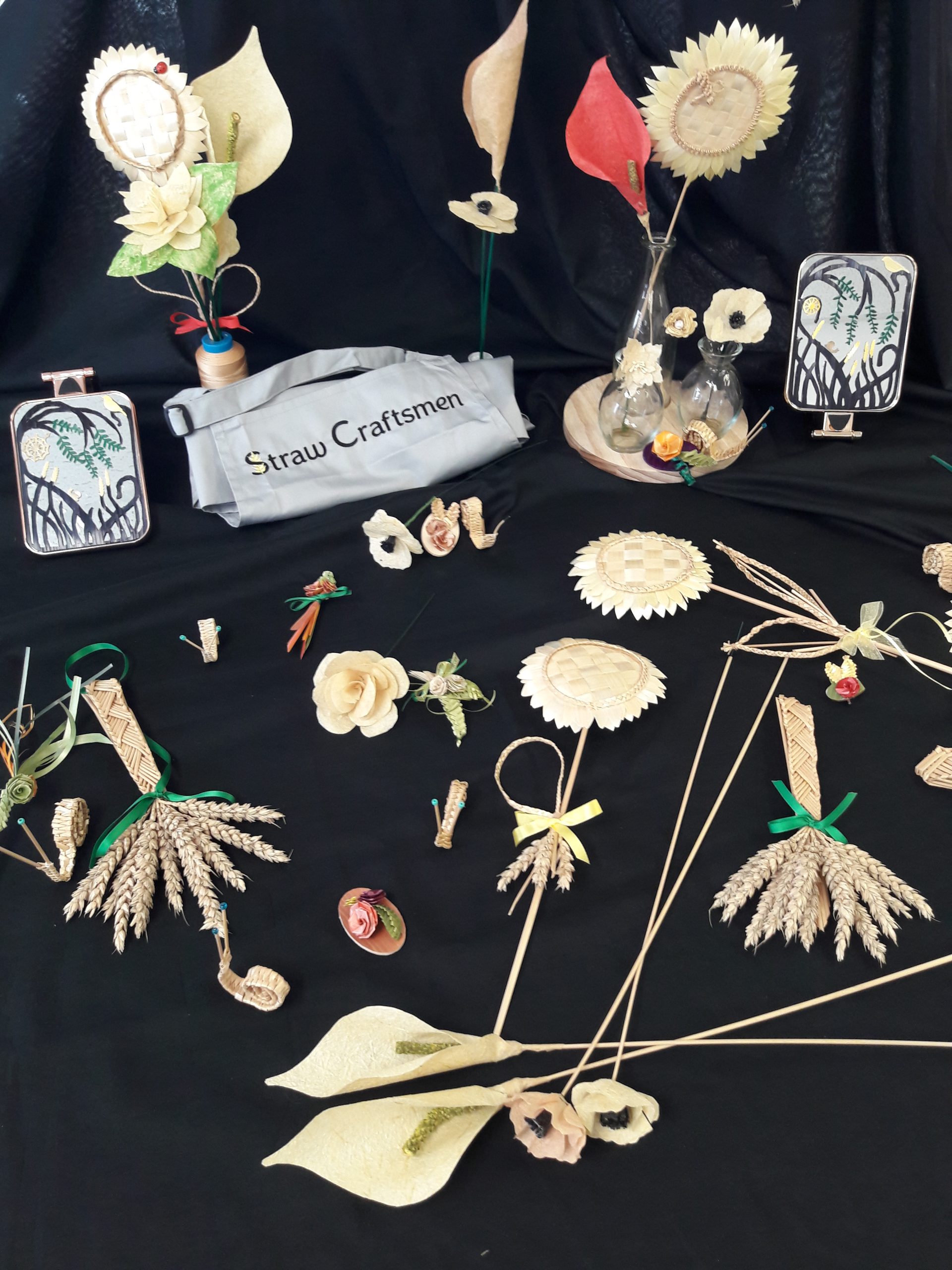 What a wonderful, inspiring, busy and exhausting weekend but such fun!
Here's to next time – watch out for the date and details, perhaps you too can join us at Straw in the North 2023.
Heather